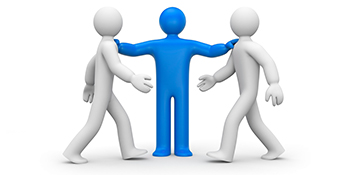 Resolving Conflicts and Overcoming Strife – Part 2
If it is possible, as much as depends on you, live peaceably with all men (Romans 12:18 NKJV)
Resolving Conflict the Biblical Way
This continues where we left off in the  Resolving Conflicts and Overcoming Strife – Part 1 message. When dealing with conflict, the Bible strongly encourages us Christians to pursue peace with one another by having humble hearts, acknowledging their part in the conflict, repenting, and reconciling (Hebrews 12:14-15). The Bible provides the following additional guidelines to help us in resolving conflict:
Be led the by the Holy Spirit so that we will not gratify the things of the sinful nature, which include dissensions, hatred, contentions, jealousies, outbursts of wrath, discord, strife, etc. (Galatians 5:16-21).
Confess your sins one to another and pray for one another (James 5:16).
If a brother sins against you, rebuke him, tell him his faults between you and him alone. If he repents, forgive him (Matthew 18:15; Luke 17:3). If he refuses to listen, we are to bring one or two others along so that every matter may be established by two or three witnesses (Deuteronomy 19:15; 2 Corinthians). If he still refuses to listen, the next level of escalation is to tell the church, and if he refuses to listen to the church, keep away from him (Matthew 18:15-17; Romans 16:17).
If you share the gospel and Biblical Truth with someone, and the person rejects the message or does not obey the Word, we should admonish that person as a brother (or sister) and part company. However, we should not count the person as an enemy (Matthew 10:14; 2 Thessalonians 3:14). After Paul preached the truth to some people who mocked him and did not receive him well, he simply "departed from among them" (Acts 17:32-33), instead of arguing with them, insulting them or passing judgments on them.
Be peacemakers (Matthew 5:9) and pursue peace with others (Hebrews 12:14).
Listen and be willing to hear other people's perceptive, especially if you have sinned (Matthew 18:15-17).
Let our behavior be worthy of the gospel of Christ (Philippians 1:27).
Be "like-minded, having the same love, being of one accord, of one mind" (Philippians 2:2 NKJV).
"As the elect of God, holy and beloved, put on tender mercies, kindness, humility, meekness, longsuffering; bearing with one another, and forgiving one another, if anyone has a complaint against another; even as Christ forgave you, so you also must do. But above all these things put on love, which is the bond of perfection" (Colossians 3:12-14 NKJV).
Pray continually (1 Thessalonians 5:17). When we can't resolve conflicts, we should just pray and wait on the Lord and be silent instead of saying too many wrong words. At times the issues will be resolved effortlessly if you wait on God. The Lord may also open the other person's eyes to see their sins and repent or He may open your eyes to see your sins and repent.
Have a repentant heart (Psalm 51:17).
Some people think there's contradiction between dwelling together in unity (Psalm 133:1) and "bearing with one another in love, endeavoring to keep the unity of the Spirit in the bond of peace" (Ephesians 4:1-3 NKJV). Having "unity of the Spirit in the bond of peace" not only addresses people dwelling close by together, but also when they are physically separated. In the Bible, we see the following examples of how some brethren resolved conflict:
Paul and Barnabas, after a heated dispute over taking John Mark in their evangelistic mission, separated from each other physically for the sake of peace (Acts 15:36-40). However, they were both united in spreading the gospel and so continued to work in the ministry of evangelism (Matthew 28:19; Acts 1:8). As a result, they did not allow their differences to distract them from obeying their Master or detract their godly calling; they kept moving forward (Luke 14:27-33). Likewise, we should not allow Satan to use conflict to discourage or sidetrack us from our heavenly calling or using our gifts and talents for God's glory (Matthew 25:14-30; Acts 14:22).
After dwelling together for some time, Abram and Lot were blessed with much wealth and possessions. Over time, the land could no longer adequately support them together, and their servants began to fight among themselves. To resolve this quarrel and conflict, Abram and Lot agreed to part company and live in peace (Genesis 13:5-8). We see their show of unity and love when Abram later rescued Lot and his family from captivity (Genesis 14:11-16). Later on, Abraham also interceded for Lot before the destruction of Sodom and Gomorrah (Genesis 18:16-33).
There are situations where a person chooses to be hard-hearted and difficult to work with, and being too comfortable such character can corrupt good morals (1 Corinthians 15:33). The Apostle Paul teaches that in cases where we are dealing with a divisive person, we should warn that person twice, and if the person persists with his/her divisive behavior and is not willing to repent and change, we should keep away from him or her (Titus 3:9-10).
One of the biggest conflicts we see happening in the church is when a pastor or someone you respect speaks something false about you. The lies could cripple your faith, enslave you, cause you to argue with men, hurt and wound your heart, or even cause you to fall away from the faith. The Lord left us a great example of what to do when a lie is spoken. We are to go into the Bible and find and believe what God says about the matter, rebuke Satan, and say "It is written…" (Acts 17:11; Matthew 4:3-10; 16:21-23; Luke 4:3-13). We are also not called to partake in arguments or engage in prolonged debates which are useless, lead to strife, and work to destroy the hearers (Titus 3:9; 2 Timothy 2:14; 23). Rather, we should focus on things to lead to mutual edification (Romans 14:19).
We need to give careful thought before we respond to people because with the tongue we can give gentle answers and life-giving words or we can speak death and other offensive things (Proverbs 15; 1; 18:21). We will also have to guard and pray against hatred because as Christians, we are called to have love in ourselves which covers a multitude of sins (1 Peter 4:8; John 15:17), forgive others many times (Matthew 18:21-22), speak words that heal and build up (Ephesians 4:29) and have peace with one another (Mark 9:50;1 Corinthians 7:15b).
Conflict in Marriage
What about if you are in a covenant marriage and your spouse will not acknowledge his/her sin and repent? Should you simply warn your spouse twice and have nothing to do with him or her?
We believe that the marriage covenant should not be broken, and marriage vows should be upheld "till death do us part" (Matthew 5:31-32; 19:4-9), because the Lord God hates divorce (Malachi 2:16 ). The same strategies for resolving conflict with fellow believers apply to resolving conflicts between spouses. Here are a few additional lessons we have learned to resolve conflict in our marriage:
You don't have to be wrong to apologize and ask for forgiveness. Sometimes our words may hurt the other person in ways we didn't intend. So, instead of defending yourself, simply take responsibility for your words, apologize, and start speaking words that bless and edify.
Don't let unresolved issues linger on for days, weeks, months or even years. The sooner a conflict or issue is resolved, the sooner it will be forgotten. The Bible counsels us not let the sun go down while we are angry (Ephesians 4:26). In the event that the sun sets while you are still full of steam, make every effort to release it and make peace before the lights are out for the night.
Build the relationship by taking the time to actively listen to your spouse's perspective on an issue. I (Janet) used to be impatient to do this and would rather walk away and slam the door than hear how I hurt my husband. Through prayer, the Lord gave me the grace to be able to sit through a discussion without walking away, and I have now fully overcome. My husband and I have now learned to communicate in a more loving manner and give soft answers (Proverbs 15:1; 1 Peter 4:8), which promotes better communication, encourages mutual understanding, and abates unnecessary fear and strife (1 John 4:18). However, we understand that in some cases, taking a break from a heated discussion or calling a time-out is needed in order to cool the temperatures down and allow the couple to come to their senses.
If you have anything bad to say or vent about your spouse, take it to the Lord first – He can handle it! Don't start bad-mouthing your spouse to your friends or other people, as this only builds shame on your spouse, erodes trust, and re-affirms any false beliefs we may be holding about your spouse. Through prayer, the Lord is able to help us see our spouses in a positive light and as they really are –  a precious good gift from God (Proverbs 18:22). If mediation is needed, seek another godly, mature, and secure Christian couple who can be impartial in counseling you.
Some conflicts are triggered by deep-rooted issues, inner wounds, or pains that may have little to do with the spouse or issue at hand. For example, some people have trust issues even before marriage as a result of the bad relationships they experienced during the dating process, and so they are very sensitive to any hints of "cheating", whether real or imaginary. Sometimes one's traumatic childhood experiences may also start sneaking their ugly heads in marriage. Sometimes it might even be a case of generational iniquities that run in the family. In these cases, it is important to acknowledge the problem before the Lord, however painful it is, repent, forgive whoever wronged you (and keep forgiving and forgiving), ask the Lord for forgiveness as well, His help to overcome, and allow the Lord Jesus to uproot these nasty weeds from your heart, heal you and restore you fully so that you can have a healthy marital relationship. Whenever something comes up that causes heart pain and wounds, we have learned to just come together in agreement, discuss, and pray. It's also good to pray alone on a matter when others seem to not understand (1 Samuel 1:1-13). The Lord is faithful to help and able to break all our chains and release us from all bondage, however strong the chains run in the blood or family, because "He has borne our griefs and carried our sorrows; yet we esteemed Him stricken, smitten by God, and afflicted. But He was wounded for our transgressions, He was bruised for our iniquities; the chastisement for our peace was upon Him, and by His stripes we are healed (Isaiah 53:4-5 NKJV).
Personal Testimonies About Resolving Conflicts
A member of our family was emotionally hurt and offended by a close relative. She was unable to resolve the conflict with the relative, and the relative refused to pray with her, even though their differences were so sharp. After some apologies to each other, she still had pain and hurt and found herself arguing and debating daily in her mind with this relative while harboring ill feelings towards her. The way she received deliverance was by acknowledging having ill feelings as a sin before God each morning, and asking for God's help not to argue in her mind with her relative during the day (Psalm 50:15). Each time she would start debating in her mind, she would choose to repent, ask for forgiveness, forgive the relative, and pray blessings over her (Luke 6:27-28; 31). She did this for a few weeks until the Lord delivered her from this bondage. She no longer debates with her relative but feels love and peace towards her and is praying for the relative's salvation.
About eleven years ago, I (Janet) had a conflict at work with a co-worker who kept making demeaning comments. I did not know how to handle the situation and I was gripped with fear to say anything about it, so I kept silent. However, the negative comments kept coming and this led me to start feeling insecure and losing confidence in performing my job. My husband and I were in courtship at the time, and he encouraged me to do the Biblical thing and go and show him his fault privately (Matthew 18:15-17).  I also took a class offered by my employer on resolving conflicts. I learned to go talk to the person one on one and try not to use words that provoke to anger. And another good tip I learned from that class was to use the word "you" sparingly so as to avoid finger-pointing and accusing, which normally puts the other person on the defense. This is difficult to do and sometimes we truly need to use the word "you" to point out error (Matthew 18:15; Leviticus 19:17) to a fellow brother or sister, but using tact, love, and patience is needed the most. I finally set up a short meeting with the co-worker and honestly shared with him about some hurtful words he was using. To my disappointment, he denied everything and started accused me of making things up in my mind. Even though he never apologized, I still forgave him. He never made demeaning comments about me again, and the Lord also restored my joy and confidence in doing my job well. From this experience, I learned that confession and acknowledgment of one's sins or faults, pursuing peace, having the fruit of the Spirit, praying, and repentance are needed in order to obtain peace in your heart, even though the other person might not acknowledge their sins.
The consequences of unresolved conflict are many and include anxiety, lack of peace, diminished joy and passion for life, bondage, developing wrong beliefs about yourself or others, a spirit of division, diminished unity, and lack of agreement (Amos 3:3). Additionally, unresolved conflicts may also lead to a lack of intimacy, ineffectiveness in parenting, problems in marriage and ministry work, lack of fruit-filled godly communication, a hardening of the heart, and more conflicts. The Bible encourages us to do our utmost best to pursue peace with all brethren (Romans 12:18; Hebrews 12:14). So, if you are dealing with brothers or sisters who are difficult to talk to and won't acknowledge their sins and repent, please choose to love and forgive them from your heart, release any ill emotions and feelings to God in prayer, and continue praying for them daily until all the pain is gone from your heart and love is restored. Also, please search for the truth from the Bible about your situation, pray and wait on God!
Therefore submit to God. Resist the devil and he will flee from you. Draw near to God and He will draw near to you. Cleanse your hands, you sinners; and purify your hearts, you double-minded. Lament and mourn and weep! Let your laughter be turned to mourning and your joy to gloom. Humble yourselves in the sight of the Lord, and He will lift you up (James 4:710 NKJV).
If you would like to experience peace by accepting Jesus as your Lord and Savior, please start with this Prayer of Salvation. For any questions or comments about this article please contact us.
Grace and abundant peace be upon you,
Abes and Janet.