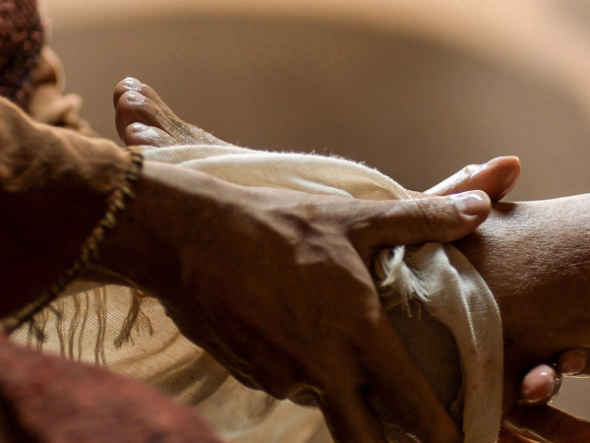 For those who exalt themselves will be humbled, and those who humble themselves will be exalted (Matthew 23:12).
Before we begin, we want to wish you a most prosperous and blessed new year in 2017. Last year may have had it's troubles, distress, and ruffled joy but may this year be remembered for all the joys and breakthroughs as we continue to look to and serve the Lord Jesus Christ! This is a continuation of the message on "A Humble Heart – Part 1".
Importance of Humility
Nowadays, the word "pride" has taken a "positive" connotation and is used to celebrate all kinds of sins and worldliness, while elevating self and looking down upon others. "Self" has become the focus of attention; having self-ambition and self-confidence are promoted as core values, with little regard for others. In sharp contrast, the Bible tells us to "do nothing out of selfish ambition or vain conceit. Rather, in humility value others above yourselves" (Philippians 2:3 NIV). Humility is willingly submitting oneself to God and to others out of fear (respect) and love for God. In the Bible, humility – being meek, lowly, and not having a self-serving attitude – is a highly-esteemed value (Genesis 18:27; Exodus 2:21; Numbers 12:3; Hebrews 11:24-25). Here are some clarifications:
Contrary to popular opinion, acting with humility does not in any way deny or diminish our own identity and self-worth. Instead, humility affirms the fact that we are precious in the sight of the Almighty God, and, therefore, follow our Master's example in lovingly serving one another and submitting to God (1 Peter 2:21; 4:10; Ephesians 5:21; Galatians 6:2-3; Romans 12:10), since our salvation has been purchased at a great price (John 3:16; Acts 17:11; Colossians 1:14; 1 Corinthians 6:19-20).
Humility does not mean sinning, approving other people's sins, or compromising the truth. Where correction is needed, we must speak up or act (Matthew 21:12; Mark 11:15-16; Luke 17:3;).
Humility does not mean naively allowing oneself to be a repeatedly exploited, abused, and wounded by people out of fear (Proverbs 29:25). Christians whose goodwill and humble character has been exploited by ministers (such as prosperity preachers) or fellow believers can face mental, emotional, and financial stress, and we should therefore not watch others go through such exploitation in silence without seeking to address and rectify those circumstances (Proverbs 31:8; John 18:23). For example, Jacob humbly and faithfully served Laban for many years which yielded an increase and blessing for Laban's household, and Jacob also needed to provide for his own house. However, Laban used and mistreated Jacob for many years, and would have left him empty handed, but the Lord saw the mistreatment and blessed Jacob so that he also became prosperous (Genesis 30:30; 31:11-13).  The Bible has prescribed a wise way to seek justice and resolve conflicts between brethren (Matthew 18:15-17), and like Paul seeking legal recourse might be a viable option in certain circumstances (Acts 25:9-12).
Being humble means that one is solidly grounded in the Truth as "written" in the Word of God (Matthew 4:4, 7, 10), and speaks the truth in love (Ephesians 4:15), because the devil lurks around like a roaring lion looking for people to deceive and devour (1 Peter 5:8). The Bible also warns us of false prophets, who come in sheep's clothing but inwardly are ravenous wolves (Matthew 7:15), preying on and seeking to take advantage of well-meaning and humble Christians.
As believers in Christ, we should walk humbly, not in our own strength, but in the power of the Holy Spirit, anchored in the promise and assurance that He who is in us is greater than that he who is in the world (1 John 4:4). We are admonished in the Bible to have unity through humility, being like-minded, having "…the same love, being of one accord, of one mind…" and not doing things just for our own interest, but also being mindful of other's interests and promoting their well-being (Philippians 2:1-4). Humility is a vital fruit required to choose Christ, walk with Him, love and obey Him, and become like Him. Although the Lord Jesus is the Alpha and Omega, He took the lowly position of a servant and was obedient to God even unto a death which he endured out of His great humility and love for us. We are called to be humble like Christ instead of seeking reputation from the world (Acts 8:32-33; Romans 5:8; Philippians 2:5-8; Revelation 22:13). In the Beatitudes, the Lord also taught us that without meekness, we cannot inherit the earth (Matthew 5:5)
Humility is required to confess our sins, receive mercy, justification, and salvation from the Lord (Luke 18:13-15; Psalm 18:27; Psalm 149:4; 2 Chronicles 33:12-20). Humility is required in order for God to hear our prayers (Psalm 10:17; Psalm 51:17) and grant us forgiveness. The Lord Jesus desires for us to be humble and submitted to Him. When we acknowledge our sins and repent of our shortcomings, we allow the Lord who is the constant Physician and Redeemer to heal us, cleanse, and keep us whole (Mark 2:17; 1 John 1:9). By humility, we are able to seek the Lord for counsel and guidance. The Lord delights in those who seek His guidance through prayer, but there is no blessing for those who reject His correction and counsel (2 Kings 1:2-4; Proverbs 1:25-30). The Lord resists the proud but gives grace to those who humble themselves (James 4:6). He also gives the humble wisdom (Proverbs 11:2), honor (Proverbs 29:23), and lifts them up (James 4:10). The humble are led in what is right and taught in the Lord's way (Psalm 25:9). The humble and meek will be among the remnant that goes to Heaven. They trust in the Lord and the Lord will take away all their sins (Zephaniah 3:11-13).
The Lord Jesus Christ is our humble King (Zechariah 9:9) and His life from birth, earthly ministry, to resurrection exemplified humility. In meekness, He showed how to use minimal words to communicate powerfully (Matthew 27:14). He says, "Come to Me, all you who are weary and burdened, and I will give you rest. Take My yoke upon you and learn from Me, for I am gentle and humble in heart, and you will find rest for your souls" (Matthew 11:28-29). In His humility, The Lord Jesus faithfully served (Mark 10:45) and gave honor to the Father by saying "…I do nothing on My own but speak just what the Father has taught Me" (John 8:28). Even when He was being mocked and ridiculed, the Lord Jesus remained strong, courageous and confident, yet very humble, choosing not defend Himself and shame his accusers (Matthew 27:12; 1 Peter 2:23). We are encouraged to imitate His humility, even as He was obedient to death (Philippians 2:5-8).
Humility Among Brethren
The Bible says "Pride goes before destruction, and a haughty spirit before a fall" (Proverbs 16:18 NKJV). We have seen how true this is even among small children. Many times children will fall and have accidents while acting entitled to things by snatching without asking or refusing to give or share when asked. When we have a self-seeking attitude, the love of Christ is not in us, for He came not to serve Himself but to do the God's will (John 4:34; Acts 12:22-23). Therefore, humility is not arrogant, conceited, boastful, self-serving, or self-promoting, but as we submit to Christ, the fruit of humility is evident as we serve God and others (2 Timothy 2:24-26).
As Christians, we are faced with many opportunities to show humility. For example, what do you do when someone cuts you in line, says something rude, hurts you, rejects the Gospel while we witness to them, or does something offensive, etc. In such circumstances, the Lord has called us to clothe ourselves with humility towards one another (1 Peter 5:5). We have seen and experienced ourselves how pride and lack of humility between brethren produce strife, self-seeking attitudes, and unrepentant hearts. When there is a disagreement between brethren, there is also disunity and being unable to help one another in love. This often requires one to humble themselves. Where pride, unrepentant hearts, and unforgiveness linger on, division, tension, and lack of peace also follow. This kind of discord produces division and/or hindered prayers (Malachi 2:13-14; 1 Peter 3:7). In our marriage, to avoid division and hindered prayer, we always ask God for help to overcome disagreements daily and in real-time. This has proven to keep our hearts soft towards each other and the Lord God has proven as faithful to help resolve any disagreement and give us the right words to speak in order to come to peace. From experience, we have learned that the sooner a disagreement is resolved, the sooner it will be forgotten. This is an incentive to be humble and to be the first one to confess our wrongs and say "Please forgive me for [list all of the wrongs in detail]".
If someone wrongs you, but you also played a small role in causing division and discord, the humble attitude is to also ask for forgiveness (Matthew 5:23-24). If you know or are made aware that you wronged someone, you should be generous with acknowledging your wrong especially when the person obediently pointed it out (Matthew 18:15). Some brethren will not humble themselves in asking for forgiveness if they wronged you until you humble yourself first. And if you humble yourself, they might take your humility as an admission of guilt and a vindication or justification of their role, concluding that you were the wrong one and they were right! Having this kind of attitude creates an environment of pride, where fear of being humble abounds and people are discouraged from apologizing and asking for forgiveness. However, exercising humility by asking for forgiveness for the wrongs we have done, while praying for one another, brings healing to our hearts, promotes an environment where people are quick to repent and apologize, and helps restore our peace with God ( Ephesians 4:1-3; James 5:16).
Becoming Humble
As we grow in the grace and knowledge of our Lord Jesus and allow Him to use and lead us, He prunes us to bear much fruit (John 15:2). In addition, spending time daily in God's presence through repentance, prayer, Bible reading, and worship will keep us humble. The Lord also humbles us; for example, He humbled the Israelites by leading them through the desert for forty years (Deuteronomy 8:2-3), and He humbled King Nebuchadnezzar, who had grown very proud attributing his achievements in Babylon to his own greatness and power. As we know, King Nebuchadnezzar was removed from his kingly throne and lived like an animal for seven years until he gave glory to God, acknowledging that God is the "…King of heaven, all of whose works are truth, and His ways justice. And those who walk in pride He is able to put down" (Daniel 4:28-37). Therefore, from this example, we learn that if we are haughty and not submissive to God, He can humble us in disgrace, while the truly humble receive elevation from Him (Matthew 23:12; Luke 14:11, James 4:6; 1 Peter 5:6).
If you are lacking in humility, pray for it along with a soft heart that is quick to repent by faith; the Lord is faithful to give you these good gifts (Matthew 7:11). Our sufficiency does not come from ourselves, but from God (2 Corinthians 3:5). Let us, therefore, humble ourselves and learn to give glory to God because without Him, we can do nothing (John 15:5; 1 Corinthians 3:7).
For thus says the High and Lofty One Who inhabits eternity, whose name is Holy: "I dwell in the high and holy place, with him who has a contrite and humble spirit, to revive the spirit of the humble, and to revive the heart of the contrite ones (Isaiah 57:15 NKJV)
If you would like to humble yourself by accepting Jesus as your Lord and Savior, please pray this Prayer of Salvation to get you started. For any questions or comments about this article please contact us.
The Lord bless you and keep you through this new year, and beyond.
In Christ,
Abes and Janet.